Spokane Authors
&
Self-Publishers
Member Roster with
Links to Member Web-Pages
          Here is where you can find out about the life, interests, and books of our members. Just click on the name of the person to visit their Member Web-Page.  We encourage all members to contribute a biography and other information so we can better find common interests and share information. That is what this organization is all about.
          Books by individuals in Spokane Authors and Self-Publishers cover a wide range of topics, ideas, and genres.  Members and others are encouraged to purchase and read works by our fellow members, and to write and submit a review for inclusion on our "Book Review" page.
          If a name is underlined and highlighted in blue, there is a member web-page for that person.
If your name isn't underlined and highlighted, it is time to start writing!  Please submit your biography, head shot, book information, and other pertinent information via email to our Webmaster, Dave McChesney daveeva@comcast.net or at authors@spokaneauthors.org  (Click here for more information about a Member Web-Page)
          On Members' Web-Pages we have provided Amazon ASINs for members' books on Amazon and/or Kindle.  It is the ten digit numerical or alpha-numeric number accompanying each book on the member's web-page.  Include it in the URL for Amazon/Kindle and it will take you direct to the listing for that book.  For example: www.amazon.com/dp/B008TXC332
Our Speakers!
          Many members of Spokane Authors and Self-Publishers are available to speak to other groups and organizations on a variety of subjects.  Click on names indicated with *** to learn more.
(Newly joined, recently rejoined, members with an updated member web-page, or members who were inadvertently left off this list are highlighted in yellow.)
Current year speakers
Only those members who are paid for 2022 are on this list, or have contacted SASP about dues payment.
Click on the name.
Barr, M. Kari  Once Again Tales of Destiny, They Came From the Sea, Thinktacular Thoughts, Rain on Me: Poetic Frenzy, Arcadium Autum    Emporium: Tales of the Gate Keeper
Bennett, Nathaniel  The Ant Doctor
Bergman, Julie Sahar's Creation
Bishop, Robin (Our February 2022 speaker)
Bradford, Gena I Can't Rest Now, Lord!  I'm Responsible
Cagle, Barbara      16 X Mom: A Mastery of Motherhood
Camp, Beth    Standing Stones, Years of Stone, Rivers of Stone, Scattered Stones, The Mermaid Quilt and Other Tales, The Seventh Tapestry, and Poetry in a Time of Pandemic
Carlson, Anya    (co-author) Illusions of Magic: The Movie
Carter, Joan   Gray Swallow
Caudel, Joyce ***   The Hat Pin Murders, The Hat Box Mystery, A Hat to Die For
Clark, Gregory, DC Ashes of Arson, Arson Revisited, Arson and Opioids, Arson's Revenge, and Arson's Exit (More to come)
Danek, Larry   I Am the Ghost in This Body: The Nomadic Ghost, Jed's World, Jed's World (New Edition) Ghostly Reunion, Runaway Ghost, and Ghost at the Border, Pioneer Ghost
Des Autel, Ed   III Minutes to XII
Deuber, Betty    Jody Visits Tooth Fairy Land
Eller, Sue ***   Return From Armageddon, Meadowlark Madness, Taming the T-Bird, The Gluten Free Gourmand, Send In The Drones, and Short Trips to Alternate Universes
Ford, Russ    De-pop, Re-ring
Harvey, Tiffani   A Journey to Independence (revised & retitled Freedom Seeker), Growing Independent (revised & retitled Freedom Seeking)
Hildahl, Esther  Meadow Pond, Mr. Inky: Spider with an Attitude, Marie's Marvelous Tomato, Poopie the Fly and Friends, and Winter Stories
Hood, Karen Jean Matsko  Blood Heiress, Bloom of Autumn Gold, Huckleberry Delight, Transracial Adoption, Petting Farm Fun, and Finding Rudolph
Hudon, Marilee  Waxing Is Useless
Jessett, Fred   My Name is Tamar, Drummer Loves Dancer, Getting Past Point No Point, Love's Arithmetic is Different
Jones, Phillip   The Casebook of Thadeus Rede & Other Stories, Inventions and Discoveries: A Trip Through History, Forensic Science for Writers: A Reference Guide, Criminal Investigators, Villains, and Tricksters: A Trip Through History, and more.
Kessler, Lee (Our May 22 Speaker)
Kopczynski, Joan M. The Freedom Chaser
Lalonde, Stephen D.   The Phoenix Gift, A Palette of Verse, Sinon of Kirra, Mentu the Nubian
Manion, Bob  Santa's Heroes, The Tree House, Springer's Heart, Summer Rain, Sabrina's Promise, and Vampire Justice
Mason, Sandy  "N" is for Nativity, and Into the Fire
Matson, Brooke (One of our August 2022 Speakers)
McChesney, David A. ***   Beyond the Ocean's Edge: A Stone Island Sea Story, Sailing Dangerous Waters: Another Stone Island Sea Story, and Darnahsian Pirates: The Third Stone Island Sea Story
McKinlay, Annie (One of our August 2022 speakers)
Meline, Lewis  LIES EXPOSED! The Truth about Dieting, Supplements, Weight Loss, and Exercise
Parks, Stan  Jakob's Ladies, Jakob's Legacy
Philbin, Sandra   Whispers of Inspiration for Busy Women
Poitevin, Kate    Saving Tir Gaeltacht (Series): The Unexpected Summer Adventure, Quests, and Battle for New Tara
Price, Johanna  (Writing as J. Tau)   Raising Buckshot: A Family's Experience With Autism
Putman, Debby (Writing as D. A. Chase) Darcy & Dawn's Impossible Adventures: The Swedish King's Gold (Coming Soon)
Riley, Bill (Our July 2022 Speaker)
Rivard, J. B.    Illusions of Magic, Illusions of Magic: The Movie, and Low on Gas – High on Sky
Seebaum, Joyce  I Know Your Secrets, Dad
Smart, Steve   Whispers of the Greybull and Vanishing Raven, with a third on the way
Spitzer, Wayne Kyle (Our March 2022 speaker)
S., Natalie   Submissive Rose
Vail, Sarah (Our speaker for September 2022) Old Schoolhouse Road, James Street, and Snow Country Lane
Wallace, Tom   To Kill a Poacher
Weldin, Bob *** The Dry Diggin's Club, The Adventurists
Wilkens, Joyce    Teacup Art…and Reflections, Walking Sticks: Wanderings and Wonderings, and Poetry Pie
Wright, Khaliela (Our April 2022 speaker)
Young, Elinor (Our speaker for June 2019 and June 2022) Running on Broken Legs: My Journey to Joy
Zargona, Michael   Turn Red Tomorrow and Sixteen Hooves Thunder
Past Speakers (Honorary members)
Bill Bancroft
Mallory Battista
Joan Quall Becker
Jeff Benefield
F. James Blair
Victor Bobb
Dean Cameron
Wendy Carroll
Doug Clark
Jan Cline
Michelle Cline
Mark Cochran
Sandy Compton
Stacey Conner
Sara Conover
Carol Crigger
Mary Farrell
Shann Ferch
Cindy Hval
Doreen Fox Kelsey
Megan Kennedy
Patrick F. McManus
Mike Miller
Anne Mini
Josh Misner
Emily Moore
Anne Corliss Morris
Dan & Angela Mortimore (with Paul Oman)
Michael Murray
Dawn Nelson
Sandy Nowack
Charles Oliver
Kimberly Ortiz
Sharma Shields
Stephen Pitters
Sarah Porter
Elise Raimi
Kate Reed
Tom Reppert
T. Dawn Richard
Rachael Ritchey
Jack Rogers
Robert Roose
Esta Rosevear
Penelope Rundle
Robert Singletary
William Stimson
Blythe Thimsen
Jessica Titchenal
Dawn Troxel
Niki Breeser Tschirgi
Dan Van Voorhis
Elinor Young
Frank Zafiro
Writing Eternally!
Joan D. Carter
Peggy DeHart
Al Jack Dymond
Elmer Freeman (founder)
John Heffernan
Don Johnson
Beatrice Knorr
Polly McMahon
Joe Meiners (founder)
Harry Merrick
Elizabeth Michael
Jim Minard
Irene Pancner
Stan Parks
Patti Richardson
Kay Ringo
Lester Smith
Roderick Stackelberg
Eileen Starr
G. H. Thompson
Vasquez, James
Conrad Wicht
Stanley Wood
<![if !vml]>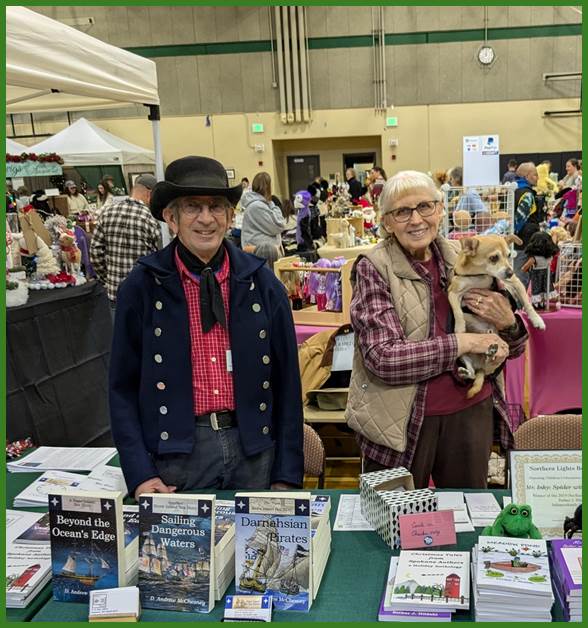 <![endif]>
Spokane Authors & Self-Publishers
Page revised 09/24/2022 dam
©2006 www.spokaneauthors.org