<![if !vml]>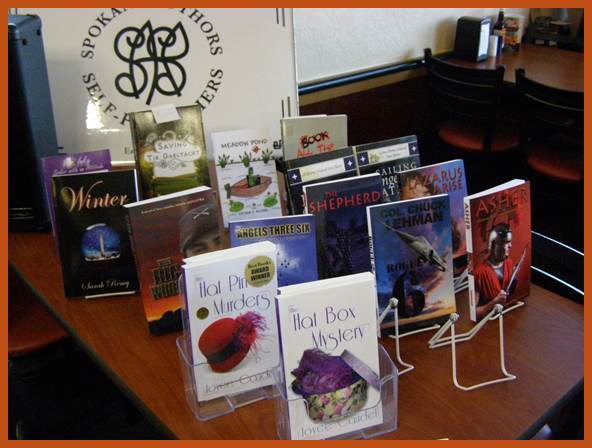 <![endif]>
Spokane Authors & Self-Publishers
Former Members & Their Published Books
Member Web-Pages combine biographies, links to members' web-sites and other on-line locations,
and information about their book(s) into one location/site.
Member Web-Pages are available via the "Members" page.
This page lists titles of books written and published by former and deceased members.
Current SASP members who do not have a Member Web-page should contact the
Web-Master at authors@spokaneauthors.org or daveeva@comcast.net. 
Barber, Devin   Cosmic Journeys
Bennett, Jim   Once A Marine…
Bratcher, T. A.   The Road Chosen
Brockett, Don    The Tyrannical Rule of the U. S. Supreme Court
Brown, Andy   Warnings Unheeded: Twin Tragedies at Fairchild Air Force Base
Campbell, B. J.  Close Calls: The True Tales of Cougar Bob
Carter, Joan D.  Gray Swallow
Christine, Helen (Foster)   Full Disclosure 
Christine, Helen (Foster)   The Lenders: A Novel About Mortgage Fraud
Church, John   Pasadena Cowboy - Growing up in Southern California and Montana 1925 to 1947
Cohen, Asia  Fire of Thorns
Dabill, Azalea   Falcon Dagger, Falcon Ode, Nightshade and Knitbone
DeHart, Phoebe "Peggy"   Chronicles of a Western Family, Vols. 1-2, Cheechako
<![if !supportLineBreakNewLine]>
<![endif]>
Dorfman, Allen   Reaching: A Vietnam War Novel
Drake, Annette    Celebration House, Bone Girl (aka Trombone Girl), A Year with Geno
Duryea, Cindy   The Wall
<![if !supportLineBreakNewLine]>
<![endif]>
Dymond, Al-Jack   Willow, Horses, Cattle and Men
Estes, Karen   Plane of the Ecliptic
Eastwood, Harland  A Sacrifice Not Forgotten, Adams County Tokens, Barracks Buddies of the 249th, Bread Basket, Here Comes the Judge, Herr Kanzler's Kinder, Last Stage to Pasco, Lost, Mercantile Memories, Mystery at Kanzler Bros., Nothing but Up, Ordinary People, Pioneer Days on Crab Creek, Ritzville Auto History, Ritzville Round Up, Sixteen Missions over Germany, Taku Memories, Welcome to Ritzville, Welcome to Ritzville, vol II, Wild West Saloons, Northwest Maritime Sampler
Ferguson, Bill   The Queen Street Kids And Some Fishy Tails (Poetry Too)
Freeman, Elmer   Those Navy Guys and Their PBY's:  The Aleutian Solution 
Goodwin, Anna   Forbidden Justice
<![if !supportLineBreakNewLine]>
<![endif]>
Hamilton, Orania   Cries of the Soul
Heffernan, John   Not One Drop of Blood
Hillebrand, Timothy S.  The Perfect Home Business List Business Manual
Hughes, Terry   Burning Paradise
Jorgensen, Ann   Kitchen Basics 101  
Kowal, Patricia   Stillpoint
Leon, Rich   Nature Exploring in Eastern Washington and North Idaho
Linn, Joy   I've Been Born Again, Ten Keys to Freedom
<![if !supportLineBreakNewLine]>
<![endif]>
Marsden, Michael A.  The House in Harrison, The Man in the Closet, A Walk in the Rain
Mongar, Sonja   Two Spoons of Bitter
Ochse, Bobbie Colliton   Nana's Magic Closet
O'Connor, Charles   Fortuisms, Rhymes and Reason & Missed Fortunes and Other Calamities
Parks, Stan   Jakob's Ladies, Jakob's Legacy
Pillsbury, Robert   Crossroads:  Stories and Essays from a Wandering Mind
Prince, Juanita   An Amazing Journey to Health
Rae, Kathy   The Jewel of Hope: Book 1: The Hope Trilogy, Ducky Day or Yucky Day… You Choose,
Deprogramming a Bully: Book 1: The Barber Chair Series
Reynolds, Dave   Not Forgotten
Robinson, Loren   Hold Until Spring
Roloff, Jim   Mending God's Creatures: True Stories of a Small-Town Veterinarian
<![if !supportLineBreakNewLine]>
<![endif]>
Saty, Molly   Put Sparklers on my Grave
Sheafor, Marian   Alive! Alive!
Spitzer, Wayne Kyle   Coffin Road, Comes a Ferryman, Far Away Nearby, Flashback: The Devil's Shambhala, Flashback: Dawn Naaygi, Flashback, Flying the Fog Roads of Cascadia, How About a Coke And Some Fries, Killer in the Looking Glass, Lean Season, Napoleon, Red Marillion, That Thing We Killed, The Pierced Veil, The Tempter and the Taker… and more
Stackelberg, Roderick   Out of Hitler's Shadow
Stinson, Jim   Remembering the "B"
Stultz, Mike   Wings of Ice
Tschirgi, Niki Breeser   Growing Up Alaska, Stretchmark My Heart
Vasquez, James     Men Who Knew Jesus Well, Women of the Bible: Their Stories in Verse, Prophets of the Old Testament:  A Classic Collection of                       Biblical Heroes in Verse, Words Jesus Spoke – In Verse, The Psalms – In Verse, Prayers from the Bible – In Classic Verse
Verhoef, Margaret Albi and Seedorf, Rita Gard   Letters from Brackham Wood: A Moira Edwards Mystery,
Letters from a Wary Watcher: A Moira Edwards Walker Mystery
Vollmer, Dan   Crossing America by Water, Toy Boats And Other Boating Short Stories, Folksongs, Poetry & Nursery Rhymes by Unknown                                  Authors
Waldrip, Sherry   I Don't Remember Signing Up For Cancer
Wickes, Diana   Home Is Where the Heart Is
Wickes, Diana   Elegy to My Montanan: A Widow's Song
Wilkens, Emily   African Rice Heart
Williams, D. A.   It's Conspiracy by any Name, Just an Average Dilemma, Bishop's Revenge, The Blue Butterfly Tattoo
<![if !supportLineBreakNewLine]>
<![endif]>
Wright, Nancy A.   Yankee on the Yangtze
 Spokane Authors & Self-Publishers
Page revised 05/07/2023 dam
©2005 www.spokaneauthors.org